Arun Jaitley was born on 28th December 1952 in Delhi to Maharaj Kishen Jaitley, who was a lawyer and Ratan Prabha Jaitley. He did his schooling from St. Xaviers School, New Delhi from 1960-969. He graduated from Shri Ram College of Commerce, New Delhi in the subject of Commerce in 1973 and he passed his law degree from the University of Delhi in 1977. He was even an Akhil Bharatiya Vidyarthi Parishad (ABVP) student activist in the Delhi University and became President of the Delhi University Students Union in 1974.
He has been a member of the National Executive of Bharatiya Janata Party, since 1991. In the government of Hon'ble Atal Bihari Vajpayee, he was appointed as the Minister of State for Information & Broadcasting and was having an Independent Charge. He was also appointed as Minister of State for Disinvestment and here also he was having Independent Charge, a new ministry which was created for the first time to give effect to the policy of disinvestments. He even took additional charge of the Ministry of Law, Justice & Company Affairs on 23rd July 2000. Later, he became a Cabinet Minister in November 2000 & took charge as the Minister of Law, Justice & Company Affairs & Shipping and was also chosen as the Leader of the opposition in the Rajya Sabha on 3rd June 2009.
He was placed under preventive detention first in Ambala Jail and then in Tihar Jail in Delhi, during the period of proclamation of Internal Emergency during 1975-1977 when civil liberties were suspended. He was appointed as the President of the Delhi ABVP & All India Secretary of the ABVP, when he was the convener of the Loktantric Yuva Morcha at a time when the Congress suffered a defeat in General Elections in 1977. Later, he also headed the youth wing of the BJP as its President.
Law Practice and Parliamentarian
He has been practicing law before the Supreme Court of India and several High Courts in the country since 1977, after obtaining LLB degree. He was also designated as a Senior Advocate by the Delhi High Court in January, 1990. He was appointed as Additional Solicitor General in 1989. He was also a delegate on the behalf of the Government of India to the United Nations General Assembly Session in June 1998, where the Declaration on Laws Relating to Drugs & Money Laundering was approved.
He was currently a Rajya Sabha member from Uttar Pradesh. He was Minister in the Cabinet of Hon'ble Prime Minister Shri Narendra Modi, since, 26th May 2014. He was looking after the Ministry of finance & Ministry of Corporate Affairs, Government of India. He was also the Minister of Defence (2014 & 2017) and the Minister of Information & Broadcasting (2014-2016), Government of India.
His Writings
His articles and speeches has been compiled in Book, which can be accessed here.
His book Andhere se Ujale ki Or by Prabhat Prakashan can be accessed here.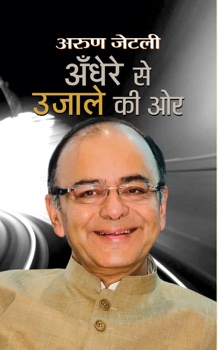 Mylawman extends our sincere respects to such a legend of the legal fraternity. May His Soul rest in Peace! alert-info